Hello! Its my first time since January but I am pleased to announce that I am hosting Tea Time Treats for the month of May. I love this time of year. Summer is well and truly on the way, there are lambs in the fields and lots of lovely new season produce such as asparagus, jersey royal new potatoes, peas, radishes, rocket, samphire, spinach, spring onions, watercress, and rhubarb for us to feast on.
Therefore, I am pleased to announce that this month's theme is 'Spring Flavours'.  All teatime treats, whether sweet or savoury, breads, scones, sandwiches, pies, pasties, cakes, tarts, desserts, conserves or biscuits are welcome to be added to the linky. Karen, Manjiri and I cannot wait to see what treats you make this month!
Happy Baking!
Rules:
Post your recipe on your blog with a link to Lavender and Lovage, Travels for Taste and Jo's Kitchen and mention the relevant month's host and attach the Tea Time Treats logo as shown on the below.
Add Tea Time Treats in your blog post as a label/tag.
The recipe can be one of your own or one you've seen elsewhere. You are welcome to republish old recipes/posts but please add the information about this challenge.
Please be as creative with the theme as you like.
If you put your post on twitter please mention @KarenBurnsBooth, @manjirichitnis @Jos_Kitchen and #teatimetreats in your message and we will re-tweet all those we see.
You do not need to enter every month to join in with the challenge.
Your post can be submitted for other blogging challenges, just make sure this complies with the rules of the other challenge.
VIP: Add your recipe link to the live linky posted at the bottom of every challenge post.
If using a recipe from another person, book, website, chef or blog, you must link back to the original recipe and not reproduce the recipe in full in your post. You must also use your OWN images for the recipe and not the original images, unless you have permission to do so, with appropriate links and any other information requested by the photo's owner added to the image.
PLEASE join in the baking fun!
Grab a Badge: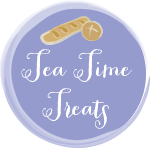 <div align="center"><a href="http://www.lavenderandlovage.com/tea-time-treats" title="Tea Time Treats"><img src="http://www.lavenderandlovage.com/wp-content/uploads/2012/01/lavenderandlovage_teatime.png" alt="Tea Time Treats" style="border:none;" /></a></div>