Hello everyone. Sorry for the long unexpected blogging break. My son Thomas had a fall onto concrete when we were on holiday at the end of June. He was in intensive care for a few days and suffered major head injuries. He is home now and doing well but blogging was not my main focus for a while. I will write more about what happened on my new lifestyle, parenting and travel blog which I am launching soon.
Anyway, after the all stress that we had when we came home from the hospital, all I really wanted was an easy but very tasty home-made cake. I love rhubarb but usually only put it in a crumble but this time I fancied a change so I put it in a cake instead. My rockin' rhubarb cake was born! The cake is very moist so you could serve it for pudding with custard or you could have a slice as part of an afternoon tea. This week (8th-14th August) is Afternoon Tea Week so you have no excuse not to indulge!
I am pleased to announce that I am now a co-host of Tea Time Treats which is a monthly linky celebrating everything about t he great British institution that is tea time! My fellow co-hosts are Karen from Lavender And Lovage and Manjiri from Travels For Taste.  This month's theme is afternoon tea so why not get your bake on and have some fun in the kitchen!
I made the cake in my Utensa tin which I reviewed here.  It is non-stick and makes baking cakes a breeze. I made the cake in my Kenwood Chef Sense Stand Mixer
although you could use a hand mixer and a bowl for this as well. I recently purchased a Kenwood Chef Flexible Beater Attachment which means you have to do very little scraping down of the bowl and makes cleaning up so much easier. A full review of the Chef Sense will be appearing soon.
Rockin' Rhubarb Cake
This is an easy but impressive rhubarb cake. Perfect as part of an afternoon tea or great as a pudding with custard
Recipe type:
Cakes and Bakes
Ingredients
350g unsalted butter, softened
350g caster sugar
4 free-range eggs
350g self-raising flour
½ teaspoon baking powder
500g raw rhubarb, chopped into small rounds
150g icing sugar (optional)
1 -3 teaspoons cold water (optional)
Instructions
Preheat the oven to 180 degrees C. Line your 8 inch cake tin at the bottom with oil and baking parchment.
In a stand mixer or bowl with an electric whisk, cream the butter and sugar together until pale.
Next add in the eggs and whisk until the mixture is pale, creamy and full of air.
Take 1 tablespoon of flour out of your measured flour and add to rhubarb. Ensure it is evenly coated in the flour.
Next gently fold in the flour to the rest of the mixture until combined. Then gently fold in the flour rhubarb until just mixed through.
Place the mixture in the lined tin, ensuring the time is as flat as can be. Then place in the preheated oven and cook for 45 minutes to an hour until golden and cooked through. The cake is very moist so it may need slightly longer to cook depending on your oven as the rhubarb releases its juices while cooking.
Allow to cool slightly then serve warm with custard or let it go cold and serve it as part of an afternoon tea.
If serving cold, mix the icing sugar and the water together until a thick but pourable mix is made. Drizzle over the cake and allow to set fully. Eat and Enjoy!
 For more rhubarb cake recipes, please see:
Simple Rhubarb & Vanilla Bean Tea Cake by Coffee & Vanilla
Rhubarb and Marzipan Cake by Fab Food 4 All
Rhubarb and Saffron Yoghurt Cake by Elizabeth's Kitchen Diary
Remarkable Rhubarb Cake by Tin & Thyme
Rhubarb Crumble Cake by Utterly Scrummy Food For Families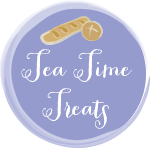 Hosted by
Karen
this month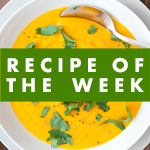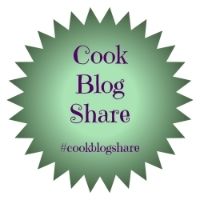 Save
Save
Save
Save
Save