It is now past the middle of January and I cannot believe it but I still have things from Christmas leftover. Its crazy! One thing that I have lots of left is soaked dried fruit which I used to make my traditional Christmas cake. As I am slightly bored of Christmas cake now, I wanted to do something with it that was still a cake but not too big or heavy. Fruit scones seemed to be perfect idea and made me feel like I was on holiday in January as I love the cream teas you can get when you visit the South West in the summer. To add a simple twist to my fruit scones, I added in some orange zest to liven them up a bit as the soaked dried fruit can be dense on its own.
Fruit Scones
This is a simple and traditional take on the fruit scone with a citrus twist to liven them up a bit!
Recipe type:
Cakes and Bakes
Ingredients
225g self-raising flour plus extra to dust
50g cold unsalted butter
Small pinch of salt
25g caster sugar
Zest of 1 orange
150g dried fruit
1 free range egg
150ml whole milk plus extra to brush on top
Instructions
Preheat the oven to 180 degrees C
In a large bowl, mix the flour, salt and butter through your fingers until it resembles breadcrumbs
Add in the caster sugar, orange zest and dried fruit and mix again to ensure it is evenly distributed
In a small jug or cup, add the egg to milk and whisk until combined
Tip the egg and milk mixture into the dried ingredients and mix together until a dough is formed. You can use a spoon or palette knife to start but I suggest using clean hands to finish forming the dough
Put the dough onto a floured surface and roll out until about half an inch thick. Cut the dough into circles using a 6cm (2½ inch) round cutter and place on a lined baking tray
Place in the preheated oven for about 15-20 minutes until risen and golden brown.
Place on a baking rack to cool down then serve with jam and clotted cream
 For more scone recipes please see:
Ainsley Harriot's Black Cherry & Cinnamon Scones by Foodie Quine
Caramel Scones by BakingQueen74
Mature Cheddar & Wholegrain Mustard Scones by Elizabeth's Kitchen Diary
Peanut Butter and Chocolate Scones by Farmersgirl Kitchen
Pin Me For Later!
I am linking this to Tea Time Treats which I co-host with Karen and Manjiri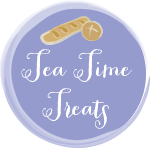 Hosted by
myself
this month and the theme is 'leftovers'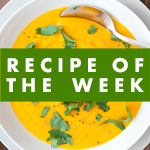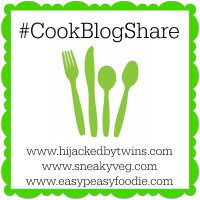 Save
Save
Save
Save
Save