The weather is getting colder now and Bonfire Night is this weekend! My recipe today is my chorizo & cannellini bean stew which is really simple and easy to make. It can be made in less than 30 minutes and is ideal to serve as a winter warmer on Bonfire Night or as a simple but delicious lunchtime dish. The stew is comforting but light and has a bit of a Mediterranean feel to it.
I made the stew in my Judge Radiant Chef Pan which I absolutely love. It is the size of a small wok and is perfect for cooking smaller stir-fry dishes and stews/soups which do not need much simmering for them to be ready. I have had the chef pan for a few months now and I think it is amazing. The colour is beautiful and would add a spark of colour to most kitchens. The pan is also non-stick so you do need much oil at all. You can put it in the dishwasher or you can wash it easily by hand too.
Chorizo & Cannellini Bean Stew (Video Post)
This is a simple and easy to make stew which is ideal for bonfire night!
Ingredients
1 tablespoon olive oil
½ chorizo ring, chopped into 1cm rounds
1 onion, peeled and finely chopped
1 tsp garlic puree or 2 garlic cloves, peeled and finely chopped
1 teaspoon smoked paprika
1 can of chopped tomatoes
50-75ml of water
1 drained can of cannellini beans
1 big bunch of parsley, finely chopped
Salt and pepper to taste
Instructions
In a large pan, fry the chorizo in the oil until the paprika starts coming out and turning the oil red.
Add in the onion and fry until softened.
Next, add the garlic and the paprika and allow to fry for a couple of minutes.
Then add the chopped tomatoes, water and beans and allow to simmer for a few minutes until your desired consistency is reached.
Season to taste and finish with the fresh parsley. Serve immediately with bread and a glass of red wine.
What do you enjoy eating on Bonfire Night?
Pin Me For Later!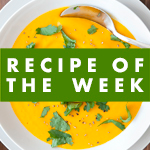 I was sent a Judge Cookware Radiant Pan to review. All opinions are my own. I was not required to give a positive review

Save
Save
Save
Save
Save
Save