Yet again, it has taken me ages to get the #SuperSoup linky live but here it is finally! Thank you to everyone who took part. Your soups were amazing as always and they were:
Broad Bean & Courgette Soup with Gouda by Elizabeth's Kitchen Diary
Kesäkeitto (Finnish traditional summer soup) by Arctic Cloudberry
Tomato and Chickpea Soup by Neil's Healthy Meals
Organic Carrot and Lentil Soup by Hijacked By Twins
Spicy Tomato and Butternut Squash Soup by Hijacked By Twins
Chilled Pea, Spinach & Parma Ham Soup by Me
Thank you again for taking part and I hope to see you again this time!
#SuperSoup December/January
The theme for December/January's #SuperSoup is Christmas/Frugal. The reason why I have chosen this theme is that everyone is saving money for Christmas at the moment so taking soup to work for lunch instead of buying it, could help you save a few pennies. Also, Christmas is the time for leftovers and putting some of them in a soup is an ideal thing to do.
For my entry into #SuperSoup, I have made a recipe from Hugh Fearnley-Whittingstall's new cookbook, River Cottage: Love Your Leftovers: Recipes For The Resourceful Cook  (you can see my video review of it here) where Hugh suggests that potato peels make an excellent soup. I was a little sceptical at first but decided to give it a go as I throw away potato peels regularly and always thought that they would be useful for something, other than the compost heap (if you have one.) The recipe is online here.  I was amazed when I tried it. It tasted like mushrooms and I could not believe how creamy it was, despite only having milk and stock as the liquid. I added it some carrot peelings too and it was perfect with lots of seasoning and fresh parsley added in at the end. I am looking forward to making this again over the festive period with all my Christmas dinner peelings.
The Linky!
I am keeping this linky open for nearly all of January so you have plenty of time to link up any posts. New or old posts are welcome.
I am linking my soup up to #CreditCrunchMunch with Camilla and Helen, hosted by Elizabeth this month and #ExtraVeg with Michelle and Helen.  I am also linking the soup up to #FestiveFoodFriday with Sarah and Kerry as it is the perfect way to use up your festive leftovers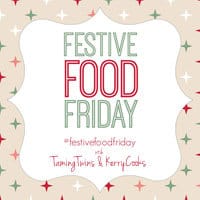 at
TamingTwins
and
KerryCooks